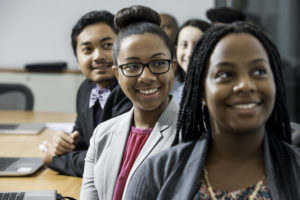 University Career Services will offer its Career Influencers Network training in November, January and March. The Career Influencers Network provides faculty and staff the opportunity to learn how to best support students in becoming career ready and achieving post graduate success in today's quickly evolving world of work. The Career Influencers Network contributes critical career readiness guidance and feedback to Mason students and is open to all Mason faculty and staff. Career Influencers:
Support students seeking career path and job-search advice;
Describe and share the career development process with students;
Refer students to University Career Services for career counseling and industry-specific advising;
Support employer recruitment efforts in compliance with Mason policies and NACE ethical standards;
Receive on-going professional development on career readiness topics, events and industry trends; and
Promote Handshake and other career resources available to Mason students.
Participants must participate in ALL THREE scheduled workshops in the series to complete the training (4.5-hours of training. The workshops are intended to be undertaken in the order offered, so plan to participate in the workshops on all three mornings. Click on the below links to register.
November Cohort (Virtual)
Tues, Nov 16; 1:00 – 2:30 p.m.
Wed, Nov 17; 1:00 – 2:30 p.m.
Thurs, Nov 18; 1:00 – 2:30 p.m.
January Cohort (In-Person)
Fri, Jan 21; 9:00 a.m. – 2:30 p.m. (lunch included)
March Cohort (Virtual, Spring Break Week)
Tues, March 15; 1:00 – 2:30 p.m.
Wed, March 16; 1:00 – 2:30 p.m.
Thurs, March 17; 1:00 – 2:30 p.m.
This piece is from the 11/10/21 Provost's Newsletter