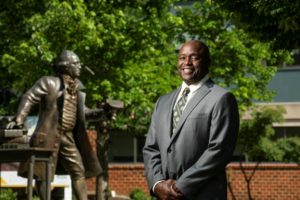 Dear Patriots,
We are at an important moment in our fight against COVID, and I want to applaud everyone for their help in making George Mason University the safest campus it can be.  We have done an incredible job this year of creating a safe environment. To date we have minimized the spread of COVID on our campuses through testing and by following safety guidelines.  The university has also provided vaccinations to more than 40,000 people at clinics on our campuses, and we are ready to begin expanding vaccinations to our community.
This is an exciting time for our university, and I know that many of us are feeling more hopeful about the months ahead. I am, too. But I also know that some people are starting to let down their guard. Let me remind you that everyone must continue to follow safety guidelines, even after being vaccinated. Now is not the time to relax our standards, but to keep our focus on safety and remember why we have been so successful.
Let's start with some good news: Mason has received the go-ahead to begin vaccinating faculty and staff this weekend, and students later this month:
Faculty and staff who are currently employed by the university and receive a W-2 are eligible to sign up. This week, the Office of Safety, Emergency, and Enterprise Risk Management (SEERM) will send a subsequent email inviting faculty and staff (which includes student wage workers) to sign up for an appointment on Saturday, April 10, or Wednesday, April 14. The number of slots is limited and appointments are first come, first served, so please be patient. If everyone cannot be vaccinated during those two dates, we will add additional dates this month. Our goal is for every eligible employee to receive the first dose by the end of April.
Students will be invited to receive a vaccine later this month, with dates to be announced shortly. Given the number of students in our community, we expect the timeline to complete vaccinations to be a little longer than for faculty and staff. Our goal again is to offer a vaccine to all students who want one.
The vaccine is a critical step to protect our community, and I encourage everyone to get vaccinated. But receiving one doesn't mean you should stop following safety guidelines. COVID-19 is still highly contagious and new variants pose greater threats of infection. Vaccines are safe and effective, but it is still possible to spread COVID-19; please continue to follow Mason's public health and safety guidelines even if you have been vaccinated.
So please remember the following:
Everyone should continue to participate in COVID surveillance testing when they are invited to do so. Many people can carry and spread the virus without being aware. Testing helps minimize the spread, and it takes only a few minutes.
Masks are still required of everyone in public spaces – even those who have been vaccinated. The latest public health guidelines do allow for groups of vaccinated people to gather without masks, but this is only in private settings. Please continue to wear masks in public.
Continue to practice physical distancing and participate in the Mason COVID Health Check, even after you have received your vaccine.
The Governor's orders continue to ask employers to allow employees to telework when possible. Mason will continue to offer flexibility to our employees.
I'm grateful for everyone's contribution in making Mason a model for success. Together, we can defeat COVID, so let's keep up the good work.
Sincerely,
Gregory Washington
President