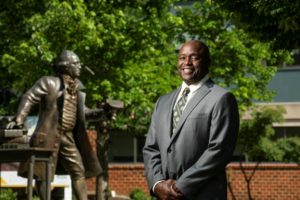 Dear Patriots,
We are approximately one month into the Spring Semester, and our move to dramatically increase testing on campus has helped us to manage the virus. I'm proud of how Mason Nation has responded as a community.  Now is not the time to ease our standards. We must remain vigilant and not let down our guard.
Across Virginia, some of our peers at other universities are seeing significant spikes in cases in recent days, and experts warn this is likely due to the more contagious strains of the virus that have emerged in the past month. Even here at Mason, where cases have been remarkably low, we are now starting to see increases that could be the result of this new strain. This includes 14 new student cases from last week.
Our testing is a critical tool in identifying these cases early. However, it doesn't work without our other robust proactive measures. The best evidence shows that when people wear masks, practice physical distancing, wash hands regularly and stay home and isolate when they feel sick, we greatly limit the spread and are safer as a community. It is also important to cooperate with our partners at the Fairfax County Health Department contact tracing team. This protects your Mason colleagues, students, friends and our entire community.
Finally, I want to remind everyone that we all must fill out the Mason Daily COVID Health Check™ every day. This is not a request. The health check is an important public health tool, and it only works when everyone participates. It takes less than a minute each day, and it is vital to our efforts to track cases on our campus. Please don't take this lightly. Everyone must do this – whether they are coming to campus or not – and be prepared to show the green all clear email, if they do come to campus. We have come this far together, let's not ease up now.
Together we can keep Mason safe.
Sincerely,
Gregory Washington
President