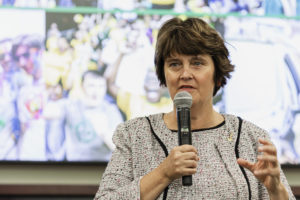 Dear Patriots:
We all are experiencing a great deal of uncertainty as we respond to the evolving coronavirus outbreak. I want to thank everyone in our community for showing such resilience and adaptability. I am continually impressed with how the Mason Nation responds to challenges and finds ways to thrive during them. We continue to monitor this situation and want to make certain that everyone is informed as we depart from our normal routines and make adjustments. With that, I'd like to share some additional details about health and safety precautions being taken at the university.
All Campus Events Cancelled from March 13 through April 10
Out of an abundance of caution and in accordance with the Commonwealth's announcement today, campus events from March 13 through April 10 will be canceled. This includes university events and events at EagleBank Arena, as well as events organized by outside groups. Our admissions team has also cancelled campus visits and is implementing virtual visits for prospective Patriots and their families. We will continue to evaluate the situation and extend the cancellation period further, if needed.
We are assessing the governor's guidance following his call for a state of emergency for the commonwealth, and will adjust our plan and communicate as appropriate.
We know this is in an inconvenience but we believe it is an important step toward curtailing the spread of the coronavirus. Mason is hardly alone in these restrictions, and we believe this is the right thing to do to protect public health.
This does not apply to routine departmental activities or meetings with 30 people or fewer, although we strongly recommend all meetings be held in rooms with sufficient space to allow social distancing. This may require securing a larger meeting space or converting to telepresence options.  If you would like to reschedule an event, please reach out to your event coordinator for assistance.
Practice Social Distancing
To minimize the potential spread of coronavirus at the university, we are asking all students, faculty and staff to implement social distancing measures wherever and whenever possible.  Examples of social distancing include leaving six feet between individuals in meeting spaces, avoid large gatherings and limit direct contact with others.
The university will remain open, and faculty and staff will be working through this time. We anticipate that there may be the need to reduce some services and hours of operation to implement social distancing measures, so please check the FAQs on the university's coronavirus website for updates or reach out directly to departments for more guidance.  I appreciate everyone's patience during this time.
As stated in my previous message, if you feel unwell, please stay home. Some faculty and staff may need commence teleworking immediately, particularly those who have medical conditions that put them at high risk. If faculty and staff believe the best option is teleworking, please work with your supervisor.
Travelers Returning from Level 3 areas
We know that risk of spreading the virus can be controlled by self-quarantine, so for those members of our community who are returning from travel, we want to remind you of the CDC level 3 travel restrictions and guidelines.
All students, faculty, and staff returning from these areas are advised to stay home for 14 days after returning from travel, monitor their health, and practice social distancing.
The Office of Housing and Residence Life has reached out to all residential students, and the majority of those students will not be living on campus at this time.  Any student requesting an exception must disclose if they have traveled to a level 3 country prior to returning. Faculty and staff returning from those countries are also required to disclose this information to Human Resources.
We will continue to keep you informed of the university's response to this situation. In the coming days, you may receive information directly from our various departments. I recommend everyone stay current with the university's information channels – email, website and social media. I also urge all of you to take care of your health and keep a positive attitude, and keep in the mind the most vulnerable in our community. Moments like this make me proud to be a part of the Mason Nation.
Sincerely,
Anne Holton
Interim President