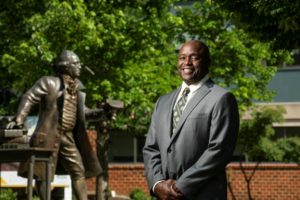 Dear fellow Patriots: 
Our community, our nation, and our world have experienced a multitude of recent tragedies so far this fall semester, and I want to take a moment to share with the Mason community how we are responding to them. While we make an earnest effort to respond to a number of crises being experienced by all our students, when these crises involve significant loss of life or undue physical violence, we try to respond to the broader community. 
From the ongoing war in Ukraine, to violence and protests in Iran, to the devastating hurricane in Florida, and to last week's stampede that took more than 150 lives at a Halloween event in Seoul, Korea, all of these events – along with less-public incidents that leave individuals feeling attacked or marginalized – can overwhelm us. 
Each tragic event brings trauma, anxiety, and disruption to various communities of interest within George Mason University. Collectively, they affect us all. 
In moments like this, Mason responds to members of our community who are in crisis as a result. While we cannot prevent or fix these tragedies, we offer support and solace as each circumstance warrants.  
Iran
Students, faculty, and staff members alike have reacted viscerally to the recent killing of an Iranian woman by state authorities for simply wearing her hijab in a way they deemed improper. The unrest throughout Iran has traumatized members of our own community, many of whom have family, friends, and other interests in Iran. They worry for their loved ones' safety and for the future of their country. At a time like this, their country of origin can seem perilously far away, and their future can feel achingly in doubt. 
Various Mason offices already have reached out to Iranian and Iranian-American students, faculty, and staff, to listen and explore how we can assist them. I will be joining a number of those meetings personally over the next couple of weeks to hear their concerns first-hand. 
Korea
This weekend's Halloween tragedy was especially tragic to Mason, as Mason Korea is located in a suburb of Seoul. Our first priority has been to confirm the safety of our own students, faculty, and staff, none of whom appear to have been involved in the event, thankfully.  We are reaching out to both the Mason Korea community and those Mason family members here at our Northern Virginia campuses to offer our support as best we can. Outreach and support are ongoing. 
Florida
When Hurricane Ian roared across central Florida, we knew a certain number of out-of-state students, faculty, and staff would surely be impacted, and we offered our assistance as needed. We understand that natural disasters like this can leave students without homes to return to, or their families without the necessary resources to continue supporting their studies. The disaster itself can create traumas that are best aided with mental health and wellbeing services, all of which are available to those affected by this or any disaster that affects them. We have been heartened by the warm reaction affected students have had to our support. 
Ukraine
We continue to monitor events in Ukraine, where just this week a fresh round of missile attacks on civilian cities was unleashed. Students and faculty from Ukraine and Russia have come to Mason to participate in the experience enshrined in our motto, Freedom and Learning. And we are here to support them as we can, with wellbeing and financial assistance for those cut off from supportive families. 
Mason is a Community
Mason is really like a small, cosmopolitan city, with a population larger than all but the 18 largest municipalities in Virginia. Our community is affected by nearly every major national or international event. 
When tragedy hits, Mason is committed to responding, sometimes in public ways, but always in personal ways that do not necessarily draw wide attention. Our responders may be from University Life, the Provost's Office, Human Resources, or the office of Diversity, Equity, and Inclusion. To those in need, services offered are tailored to the circumstance, often privately, and usually including employment or academic accommodations, information and referral for emergency financial aid, mental health and well-being assistance, or direct dialogue with university leaders. 
That's what family does for its own, and as proud as we are at how different our diversity makes us, in the end we all belong to the same Mason family. Recent weeks have driven home just how much of a family the Mason community can and should be.
Fellow Patriots, stay well, stay safe, and take care of each other as you can. 
Sincerely, 
Gregory Washington 
President