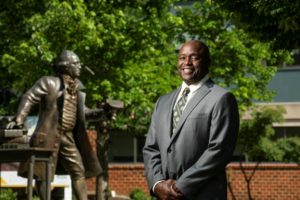 Dear Fellow Patriots,
After a very successful fall semester of us all working together to stay fully open and protected from COVID, we begin the new year with new challenges and new resolve. The rapid onset of the very contagious omicron variant has made Northern Virginia, Washington D.C., and Maryland a national epicenter of new cases, so we need to take added precautions to stay healthy. Clearly, omicron has changed the rules, so we must adapt accordingly.
The bottom line for George Mason University is: The university will open as planned on January 3, and spring semester classes will begin as planned on January 24. We will require all faculty, staff, and students to obtain a booster shot as soon as they are able, and provide proof of the booster to Mason. And we will continue our indoor masking, testing, and Mason COVID Health Check requirements.
For faculty and staff, work schedules with regard to telework and remote work will remain in place for the duration of the period documented in the agreement. Given the challenges associated with this variant, we encourage employees requesting additional flexibility to work directly with their supervisor.
As we have seen, circumstances can change quickly, so our health and safety team and university administrators will continue closely to monitor conditions and will notify the Mason community of any change in plans as soon as is possible. If a change in the modality of instruction for classes at the start of the spring semester becomes necessary, we will notify the university community by January 18.
As in the fall, the spring semester's success will depend upon the active cooperation of the entire Mason community. We are all in this together.
Here are the next steps required as we plan for a safe and healthy spring semester:
BOOSTERS: 
Public health experts have advised that vaccines are still the most effective tools to combat COVID-19, and recent scientific data overwhelmingly supports the effectiveness of booster shots in preventing severe disease and hospitalization.
Mason will require COVID-19 boosters for all faculty, staff and students, in observance of US Centers for Disease Control (CDC) recommendations. Boosters are available for free to all faculty, staff, and students at Fenwick Library A Wing and also locally. Please schedule an appointment at vaccine.gmu.edu.  
The CDC has approved and recommended vaccine boosters for anyone over age 16 who completed the Pfizer or Moderna series at least six months ago. Individuals who received the Johnson & Johnson vaccine are eligible to receive a booster after at least two months. Individuals who received a WHO authorized vaccine different from Pfizer, Moderna or Johnson & Johnson are eligible for a booster after six months.  
All Mason students, faculty and staff must submit proof that you've received the booster.  
Mason students who were vaccinated by the August 1, 2021 deadline are eligible to receive a booster on February 1, 2022. The deadline to receive a booster and upload your documentation is February 15, 2022.  
Mason faculty and staff who were vaccinated by the August 15, 2021 deadline are eligible to receive a booster on February 15, 2022. The deadline to receive a booster and upload your documentation is February 15, 2022.  
Please submit your documentation through the Medicat Health Service portal. Those who are not eligible for a booster by February 2, 2022 will not be considered non-compliant until two weeks after your eligibility date.
Please consult with your primary healthcare provider if you have medical questions or concerns about the booster. You may apply for a medical or religious exemption from the booster, and if you received an exemption for the COVID vaccine, the exemption will also apply to this booster requirement. You do not need to re-apply for a medical or religious exemption unless your circumstances have changed.
We urge you to receive the booster as soon as you are eligible if you have not done so already. Please schedule your appointment at vaccine.gmu.edu.
TESTING: 
All residential students, vaccinated and unvaccinated, are required to take a pre-arrival COVID test which will be supplied by Mason. If positive, you will not be able to move in until your isolation period is concluded.  All residential students will be required to test again at move in and also 48 hours after their move-in test.
Detailed information for residential students will be sent via email directly to them and will include specific instructions for various residential populations (SciTech Campus, Smithsonian-Mason School of Conservation, international students, etc.).
All faculty and staff, vaccinated and unvaccinated, who do not have an approved fully remote work agreement are required to test the week of January 17. Please note: This requirement applies to faculty and staff who have partial or no remote work agreements.
Mason will continue to offer on-campus testing, and we encourage the community to get tested when needed. In addition to our regular testing hours, testing will be available on Saturday, January 22 and Sunday, January 23. Please visit https://www.gmu.edu/safe-return-campus/personal-and-public-health/covid-19-testing for testing hours and locations.
If at any point if you develop symptoms, please seek medical care through your primary care provider, diagnostic testing locations, or Student Health Services.  Please do not come to the Fenwick surveillance testing center if you are symptomatic. 
ISOLATION AND QUARANTINE:  
In accordance with CDC guidance, Mason has revised the previously required 10-day isolation and 14-day quarantine period to 5 days for those who test negative and are asymptomatic.  For more details on isolation and quarantine requirements, please visit Mason's Isolation and Quarantine Period Guidelines.
MASKS:  
Masks remain important tools for mitigating the spread of COVID-19 and continue to be required at Mason as they were in the fall semester. Some health experts are calling for the public to upgrade from cloth masks to at least surgical masks or even higher protective masks (i.e., N95, KN95, or KF94). We are working to obtain these newly recommended masks and will provide an update on their availability soon. To learn more about what type of mask is right for you, please visit the CDC website for advice about masks.
MASON COVID HEALTH CHECK: 
The Mason COVID Health Check is still a critical part of our plan to keep our campuses safe. This spring, we are streamlining the Mason COVID Health Check and will now only require you to fill out the survey on the days you are coming to a Mason campus or site, or when you need to report a positive test.
Please continue to use the Mason COVID Health Check as your information helps our health and safety experts understand the extent and impact of COVID within the Mason community. If you have symptoms that could be COVID or are unexplained, please consult with your health care provider or Student Health Services, and get a diagnostic test if appropriate.
Thank you in advance for your continued commitment to maintaining your own health and that of your fellow Mason Patriots.
Sincerely,
Gregory Washington
President