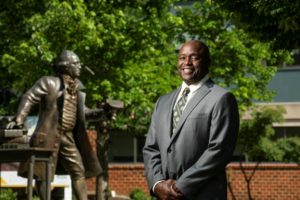 Dear Fellow Patriots:
I have more encouraging news to share about our management of COVID-19. The presence of the virus is now at a low point both on Mason's campuses and in surrounding communities. Our positivity rates have remained well below 1 percent and community transmission in Fairfax County is now categorized as "low."
The current low level of COVID-19 means that we can take another step forward. Effective immediately, Mason campuses are mask-optional, except in certain event venues, healthcare settings, on public transit, or childcare settings. We are now also COVID test-optional, with the exception of unvaccinated, high-contact students. Visit the Safe Return to Campus page for when and where masks and tests are still required.  
Every Mason Patriot should feel free to practice the masking measures that make you feel safe. If you feel more comfortable wearing a mask, we support you. If you choose not to wear a mask where they are optional, we support you as well.
There are steps that we will take to keep our community healthy and safe:
We encourage all students, faculty, and staff to continue to complete the Mason COVID Health Check each day prior to coming to a campus, through Spring Commencement on May 20.
We ask that all students, faculty and staff get tested when they feel symptomatic, either at Student Health Services or at the Peterson Hall testing site.
And FREE 2nd booster shots for anyone over 50, per CDC and VDH guidelines are available at the Fenwick Testing and Vaccination Center. 
Your dedication and compassion for your fellow Patriots has contributed to our success. Let's keep going and finish this spring semester healthy and safe.
Onward,
Gregory Washington
President