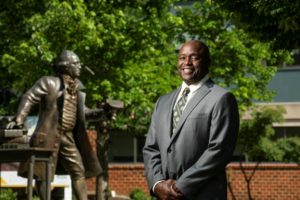 Dear Fellow Patriots:
Three weeks ago, I shared news that we are considering changing George Mason University's COVID-19 mask-wearing requirements. Today I am writing to offer an encouraging update.
As you may recall, I shared that rapidly evolving COVID-19 conditions on our campuses have led us to set March 4 as the date by which we will consider moving to optional mask usage on campus, if Mason's positivity rate for COVID-19 remains below 4 percent until then.
More than halfway through the evaluation period, Mason's positivity rate – the percentage of those being tested who are positive for COVID-19 – remains consistently far below the 4 percent threshold, at 0.38 percent. This success, combined with Mason's 95-percent overall vaccination rate, as well as the continued overall drop in COVID-19 spread throughout the region and nation, now make the pivot to optional mask-wearing more viable.
What this means for Mason
It is increasingly likely that on March 4 we will announce a pivot from our current mask requirement to a mask-optional university environment – with two vital exceptions: It is likely that masks will still be required for all in-person class environments and other similarly enclosed, close-contact settings with greater than 50 people. In all other settings, we will support and encourage the wearing of masks as individuals find appropriate for their circumstances. Finally, we will of course continue to monitor our progress, and will revert to masking if necessary.
What to expect on March 4
We will communicate our final decisions on March 4 about whether we will pivot to a mask-optional university, and what exceptions we will continue to observe. In the meantime, given the trends that continue to point toward a pivot, I encourage you to continue observing our current precautions and expect that some adjustments are coming on March 4.
Stay tuned, Patriots. We will have more guidance very soon.
Sincerely,
Gregory Washington
President