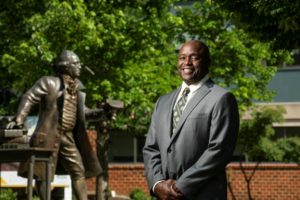 Hello Mason Patriots,
We are approaching the midpoint of the Spring semester, and I'm pleased to say that our community continues to do a remarkable job of showing how to thrive during this pandemic.  A crisis can be an opportunity to learn and lead, and we have done both.
This spring we leaned into the expertise of our faculty and staff to improve and advance testing on campus while reinforcing the safety guidelines offered by public health officials. The results have been impressive: we are testing thousands each week and the number of active cases on our campus is currently 57 – which is well below many of our peers at institutions around the Commonwealth. Additionally, George Mason University has played an important role in helping distribute vaccines to the most vulnerable in Northern Virginia, working with our local public health departments to conduct clinics on our Fairfax Campus and in Prince William County.
Our people are working hard to help end this crisis, and we are starting to see real results. More people are vaccinated. Cases nationally are declining. Children are returning to K-12 schools. And this week, President Biden said the nation was on track to have enough supply of vaccines for every adult in America by the end of May.
With more progress on the way, we are looking to expand operations in the fall and resume a more normal campus environment. This includes:
Bringing classrooms back to their original capacity with some modifications to ensure safety, with a goal of having at least 75 percent of instruction on-campus.
Building a schedule that supports choice of instruction for students, with a focus on robust on-campus engagement, while continuing opportunities for hybrid and online modes of learning that are integrated within our curricula.
Creating a vibrant and safe campus environment, filled with more on-campus activities, programs and opportunities to connect and enrich the student experience.
Expanding capacity in residence halls to near normal levels.
Continuing to require masks, testing and enhanced safety protocols until public health guidance changes.
Students deserve a choice to learn in an environment that works best for them, and we will do our best to offer multiple modes of learning and experience.  At the same time, we are mindful of concerns raised by faculty and staff, and we will continue to follow the guidance of public health officials. We are prepared to change course, if necessary.
I'm excited to see more people on campus and feel the full impact of Mason Nation spirit. Now's not the time to drop our guard, but to double down on safety and look forward to a promising fall. Thank you and best wishes for the remainder of the semester.
Gregory Washington
President, George Mason University