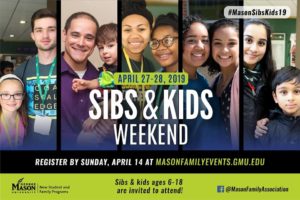 Sibs & Kids Weekend is April 27–28. Mason faculty, staff, and students are invited to register their kids and siblings ages 6–18 to experience life as a Patriot!
Participants receive giveaways, a Sibs & Kids Weekend t-shirt, and entrance to all events on the schedule (including meals, access to Mason Recreation facilities, and parking on the Fairfax Campus).
The cost is $15 for Mason faculty/staff members, $25 for participants (ages 6–18), and free for Mason students.
Online registration is open now at masonfamilyevents.gmu.edu.
For more information, contact New Student and Family Programs at families@gmu.edu or 703-993-2475.