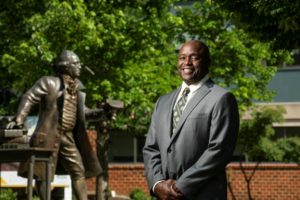 Fellow Patriots:
Fall 2021 at George Mason University is off to a very promising start. Despite the persistence of COVID-19, we have safely reopened our campuses to another record number of students.
The biggest success factor is you. More than 91 percent of Mason students, faculty, and staff are vaccinated, and nearly 94 percent of the community have uploaded their vaccination status, putting us in a very strong position to stay ahead of COVID-19 and its variants.
As the semester progresses, coronavirus presents a tremendous threat to those who are exempt from or unable to receive a vaccine, and even to some vaccinated individuals, who experience "breakthrough" cases of COVID. This is why we are conducting business a little differently than other Virginia universities. I want to explain what is – and just as importantly, what is not – happening at Mason.
Large-scale surveillance testing
This month, we are initiating the largest-scale surveillance testing protocol of any Virginia university, in which our goal is to test up to 13,000 members of the Mason community each week. By comparison, other Virginia universities are testing 500 to 3,000 individuals a week, with a focus on testing only those who are not vaccinated. Because the Delta variant of COVID-19 can occur even among the vaccinated, we are initiating a "dragnet" approach to find and isolate the virus wherever we can, and that includes testing those of us who are vaccinated, as well.
If you receive an email asking you to get tested, please do so regardless of your vaccine status.
Comprehensive notifications
Our outbreak mitigation and management team are also notifying every student, faculty, and staff member who may have been exposed to someone testing positive for COVID. These notifications include anyone in a student's classroom, and can result in one positive case triggering multiple notifications to the same people if they have multiple points of contact, such as having more than one class together. For some, this has created the unintended perception that COVID cases are more widespread than they actually are.
In fact, our numbers remain remarkably low. Since August 23, we are tracking 83 positive cases among our 50,000 students, faculty, and staff. Our overall positivity rate among those being tested is 0.42%.
Expanded options for getting tested
Because Mason currently has sufficient testing capacity, for everyone's safety, we are able to expand our surveillance testing. If you receive notification from Mason of a positive case in your classroom or work areas you are welcome to participate in surveillance testing if you are asymptomatic. Go to one of our on-campus surveillance test sites.
If you would like to self-select for an on-demand surveillance test you may do so, as long as capacity is available, at the Johnson Center on the Fairfax Campus on weekdays from 9 a.m. to 5 p.m.  Please be aware you may experience wait times of up to 30 minutes. For all surveillance testing, please remember not to eat or drink anything for 30 minutes before your test.
If you are experiencing symptoms please contact your primary health care provider and do not come to Mason's campuses.
Reminders for health and safety protocols 
The Mason COVID Health Check is your ally. Complete it every day, no matter what. Faculty are encouraged to ask students to show their Health Check as a condition of attending in-person class. Students, faculty, and staff who cannot produce green Health Check emails should not be in our classrooms or on campus.
Masks are required in all indoor settings unless actively eating or drinking. Students needing masks can go to the information desk in SUB 1 or the Student Involvement office in the HUB, Suite 2300, where masks are available free of charge. All students in classrooms must properly wear their masks such that they are covering both their nose and mouth.
And as always, good hand hygiene through handwashing or use of hand sanitizer, completing the Mason COVID Health Check each day, and staying home if you feel unwell are all critical parts of our public health strategy.
Mason is weathering this phase of the pandemic admirably – because of you. Patriots, let's keep it up! Have a healthy, safe, and productive semester.
Sincerely,
Gregory Washington
President