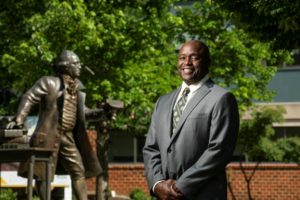 Dear Patriots,  
Thank you for your commitment to keeping the campus community safe and healthy. We have followed the guidance of public health experts, and it's working. Mason has had only 304 positive COVID cases among our 50,000 plus population since the start of the semester. Vaccinations, mask wearing, physical distancing, and good hand hygiene, along with staying home if you feel unwell, have kept these numbers low and enabled us to come back to campus and remain safe.
As the winter season approaches and we look forward to the Thanksgiving holiday break, it is more important than ever to continue the practices that have kept our campus, our communities, and our families healthy and safe. Of course, this is easier said than done, and there is strong temptation to relax our standards. But with cold weather, the flu season and holidays ahead, we have to remind ourselves and each other to stay diligent and committed to the practices that have worked.  
This is the right time to update some of our protocols and renew our commitment to what has kept our community safe:

Mask wearing: All individuals on our campuses must continue to wear masks indoors, including classrooms and laboratories, regardless of vaccination status. Vaccinated individuals do not need to wear masks outdoors; however, unvaccinated individuals are still required to wear masks outdoors when physical distancing cannot be maintained or at an outdoor university event.  
Student COVID testing protocols:  We have developed some updates to our COVID testing protocol to keep the Mason Nation and our families safe during the holiday season.
Exit Testing:
All students are

 encouraged

 to test prior to leaving campus for Thanksgiving. 

 

 

We recommend you do this 1-2 days before celebrating with those from outside your household to receive test results in time.
Residential Student Return Testing: 
All residential students will be

 

required

 to participate in return-to-campus testing. 

 

 

This will happen the week of Nov. 29 (Monday, Nov. 29, Tuesday, Nov. 30, or Wednesday, Dec. 1). 

 

Those with approved medical exemptions or who are not fully vaccinated must test twice the week of Nov. 29 with at least 48 hours between their first and second test.

 

 

Failure to comply with the testing protocol will result in a referral to the Office of Student Conduct.
Non-Residential Student Return Testing: 
All non-residential students are encouraged to participate in return testing, by invitation or by

 

self-selected on-demand testing

. 

 

 

Those with approved medical/religious vaccination exemptions and those who are not fully vaccinated (including those who have not had their vaccination documentation verified by Student Health Services) must test twice the week of Nov. 29 with at least 48 hours between their first and second test.

 
COVID Testing for faculty and staff: We are offering departure and return testing to any Mason community member.  
COVID Health Check: All students and faculty who do not have a 100% remote or online exemption are still required to complete the Mason COVID Health Check daily, and should stay off campus if you feel sick. 
Your dedication and compassion for your fellow Patriots has contributed to our success this fall. Protocols are working; masks are being worn across campus, and 96 percent of our students and 92 percent of our faculty and staff are vaccinated. Please continue to do your part by following these guidelines so that we can finish the semester healthy, safe and strong.  Keep up the good work!
 
Sincerely,
Gregory Washington
President