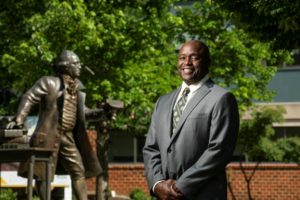 Dear Fellow Patriots:
Recent increases in COVID-19 cases have prompted concerns and questions in the university community that I want to address as we head into commencement week and the completion of the Spring 2022 semester.
We continue to watch conditions daily. The number of cases at George Mason University in recent weeks remains well below the high we experienced this winter. We are following current CDC and local public health guidance on how to respond to COVID conditions. As of this week, Fairfax County community rates are classified as medium, and the county is not calling for a return to mask mandates at this time.
We will continue our current campus policy except for upcoming commencement and indoor degree ceremonies. We recognize that these events will be attended by many family members who consider this to be a once-in-a-lifetime opportunity to witness their loved ones complete a major educational milestone. Many attendees may have avoided public events due to COVID risks, so we owe it to our families to take added measures for these events and create as safe an environment as possible. In addition, many are coming from Northern Virginia, where the prevalence rate is classified as medium. Therefore, for commencement at EagleBank Arena and all indoor degree celebrations, we will require all students, faculty, staff, and guests in attendance to wear masks. We will have additional supplies on hand for those who arrive without a mask.
Looking ahead to the summer, we will require all summer students living on campus to be regularly tested and we will reevaluate if necessary. We will share more details about our summer plans shortly.
Congratulations on completing another semester in such a safe and responsible manner.
Sincerely,
Gregory Washington
President