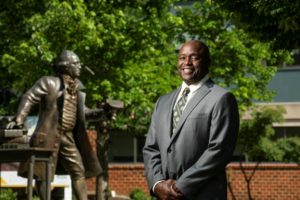 Dear Patriots,
We are less than two weeks from the start of the fall semester, and we are making final preparations to fully open George Mason University's campuses and begin fall semester classes. We cannot wait to welcome the full university community back to our classrooms, laboratories, libraries, and other academic facilities, as well as our residence and dining halls, and once again to come together in person to learn, live, work, and thrive.
Fortunately, with our successful experiences last year and our continued understanding, we are well equipped with the tools we need to fully open our campuses safely and responsibly. As you know, last month, we made COVID-19 vaccinations a requirement on our campuses, excluding those with medical or religious exemptions. If you have not yet uploaded your vaccination information, we urge you to do so via this link.
As COVID-19 infections increase in our region, especially the prevalence of the Delta variant, effective immediately, our university again will require all individuals on our campus to wear masks indoors, including classrooms and laboratories, regardless of vaccination status. We will not require masks to be worn by those who are vaccinated in outdoor settings at this time; however, unvaccinated individuals are required to continue to wear masks outdoors when physical distancing cannot be maintained or at a university event.  As we have done in the past, there are a few exceptions to our mask policy, which can be viewed online.
We will continue to assess our policy regarding the wearing of masks in the context of federal, state, and local guidelines and the advice of the medical and public health communities.
This renewed masking requirement is based on the recommendation of the Northern Virginia Health Directors, and in response to our adjacent jurisdictions that are experiencing elevated levels of COVID-19 and the Delta variant. Our university masking requirement will help us to do our part to hold back its spread.
With thousands of students soon arriving on our campus from all over Virginia, across the United States, and many other countries around the world — including many places where the Delta variant is far more prevalent — our vaccination and masking requirements will help us to guard against spreading the virus. It is important to remember that this is a public health emergency, not a private health emergency. Our own personal actions impact everyone around us — and we are affected by everyone else's actions. We are all in this together.
Our community knows how to fight COVID together. To date, the Mason community has experienced remarkably low rates of COVID transmission. As of the start of this week, we were tracking just six active cases among our students, faculty, and staff. In addition, almost 85 percent of Mason students and employees have reported receiving the vaccine. This is a track record we intend to maintain, for the safety of everyone at Mason.
Coming back together requires that we continue our fight against COVID together. We have a robust plan to keep COVID in check — vaccines, masks, Mason COVID Health Check, and testing. We now need the resolve to use them relentlessly so that we together prevent COVID from spreading.
I have no doubt that Mason Nation will respond as it always has, by supporting each other and setting an example for others to follow. I look forward to welcoming you back to our campus and wish you a successful, inspiring, and healthy fall semester.
Sincerely,
Gregory Washington
President