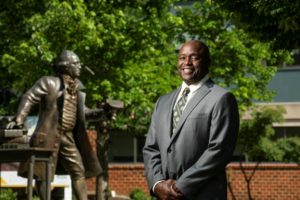 Dear Colleagues, 
Welcome back! I hope you had a rejuvenating winter break and are as eager as I am for the spring semester. 
We've triumphed over nearly three years of tremendous challenges and have gradually resumed most of our usual activities. We're seeing more students, faculty and staff in person – anyone who has tried to snag a parking garage charging station can attest to that. We're Zooming less and meeting in-person more. We're seeing more smiles and fewer masks (both are welcome sights!)  
I don't exactly know what our new normal is, but I know one thing: It's a lot like the old normal, because Mason students, faculty and staff are achieving at a high level.  
Let's take a quick look back at a few highlights from the fall semester: 
The university teamed with 

TimelyMD

 to improve student health by providing a 24-hour virtual extension of campus counseling center resources to improve student well-being.

 

The Board of Visitors approved our 

Strategic Direction

 

document that shapes our priorities for the upcoming years.

 

We held our first Anti-Racism and Inclusive Excellence national conference at Mason Square, where construction on Fuse is under way.

 

Our faculty's achievements continue to be celebrated. Ed Maibach, University Professor in the Department of Communication and the director of Mason's Center for Climate Change Communication, was elected to the National Academy of Medicine. 

 

We established the university's first employee dependent tuition benefit, through the Mason Virginia Promise, to assist our neediest families.

 

Attain Partners founder and CEO Greg Baroni and his wife, Camille, committed $10 million to the School of Business.

 

We launched 

Stop the Bleed training

 with our Active Threat emergency training to provide hands-on first aid practice and help our community be better prepared.

 

I was excited to make my first visit to 

Mason Korea

, where the university signed agreements with NCSoft and Hanguk University of Foreign Studies for collaboration and research.

 
This semester, you can look forward to: 
Another base salary increase that took effect on Jan. 10 – in addition to the 5% salary increase last summer.

(see note below)

The 

Employee Health and Well-Being

 group

 within Safety, Emergency, & Enterprise Risk Management will offer faculty and staff an on-site clinic at the Fairfax Campus and offer expanded services such as in-office and virtual (telehealth) visits for minor, acute illness or injury, and wellness checks, while continuing to offer COVID testing and vaccinations.

 

We will officially celebrate the state's first 

College of Public Health

 during National Public Health Week from April 3-9.

 

Alessandra Luchini, a professor in Mason's Center for Applied Proteomics and Molecular Medicine, will receive a 2023 Outstanding Faculty Award from the State Council of Higher Education for Virginia.

 

Construction on our Life Sciences and Engineering Building on the Science and Technology Campus is under way.

 

We will launch a $1 billion – yes, billion – campaign to help fund our priorities and ensure the university's future fiscal standing.

 

Our community has donated more than 4,000 pounds of food and hygiene items in the 

Patriot Pantry Challenge

. Keep 'em coming! Our students greatly appreciate your generosity.

 
A
n
d there are t
wo things you can always count on: My leadership team and me supporting you. And Mason prioritizing our students.
Everything we're putting in place results in an enhanced academic and social environment for our students. That is something for which we all can feel proud. 
Let's have a wonderful spring semester. Go, Patriots! 
Gregory Washington
President
Updated 1/25/2023: