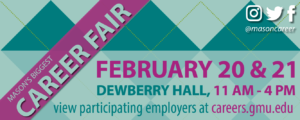 February 20 and 21, 2019 – Mason's biggest Career Fair for students, alumni, and grad students begins. The Career Fair is a two-day event hosted on the Fairfax campus in Dewberry Hall, located in the Johnson Center. Doors open at 11 am and close at 4 pm each day. Pre-registration is not required and all students are encouraged to attend both days, as each day features many different employers. This event is hosted by University Career Services (UCS).
Thousands of students and more than 200 local, regional, and national employers in a variety of industries are registered to attend, including Fairfax County Government, MITRE, Booz Allen Hamilton, Accenture Federal, Voice of America, Wolf Trap Performing Arts Foundation, Dell, Inc., NSA, NIH and many more. Employers are often represented by Mason alumni.
This year there are more than 40 new employers that are recruiting at Mason for the first. Among them are Amtrak, the US Coast Guard, Matrix Consulting, Penn National Gaming, Sonepar USA, and Meltwater Group just to name a few. The diversity of employers and opportunities at Mason's biggest Career Fair is unmatched on campus.
University Career Services encourages students to prepare using four simple steps:
Dress in professional attire (for examples see: pinterest.com/masoncareer/workwear)
Research a few attending employers before you speak with them (visit careers.gmu.edu)
Develop a basic "personal pitch" to market your skills and interests to employers (attend Prepare for the Fair Workshop Monday, February 18, at 5:30 pm in SUB I, 3B)
Bring several copies of your resume (attend the two-day Resume Clinic in SUB I, 3400, Monday February 18 from 11 am to 5 pm and Tuesday, February 19 from 1 to 7 p-m).
The first day of the Career Fair, February 20, features employers in STEM industries. The second day, February 21, invites many business, non-technical, and public service employers. Both days, however, will feature a broad mix of employers who are looking for a variety of Mason students.
Students are encouraged to investigate employers to discover if they are offering relevant or interesting opportunities. For example, a student who is interested in graphic design may not necessarily find opportunities with a graphic design company– but they may find opportunities in a nonprofit, engineering, or software development company.
As the world of work continues to evolve, University Career Services is committed to educating and empowering students to build meaningful careers in a global society. They teach students how to explore careers through experiential learning, make connections between their academic and professional experience, and network with alumni and employers. As an office of University Life, Career Services fosters relationships with local and national employers, and collaborates with faculty and campus partners to facilitate career education and preparation.
For more information on the career fair and attending employers, please visit careers.gmu.edu